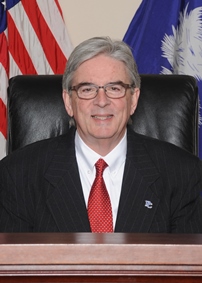 Clinton, S.C.
Third District: All of Oconee, Pickens, Anderson, Abbeville, Laurens, Greenwood, McCormick, Edgefield, and Saluda, as well as parts of Newberry and Greenville.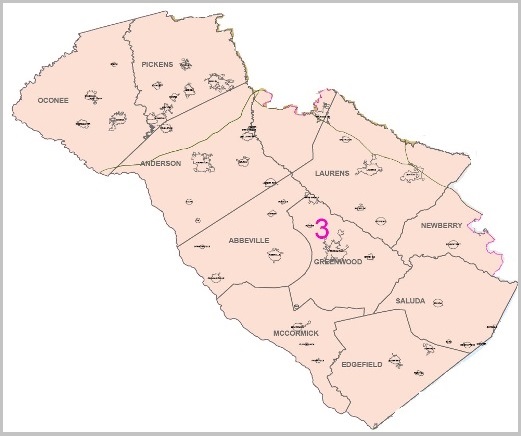 Email:  Commissioner.Randall@psc.sc.gov
Administrative Coordinator:  Tricia DeSanty, 803-896-5100
Assumed Commissionership July 1, 2013
Current term ends June 30, 2020
Spouse:  Kimberly Byers Randall
Two daughters, and four grandchildren
Member, National Association of Regulatory Utility Commissioners (NARUC)
     - Member, NARUC Committee on Gas, 2013-2014
     - Co-Vice Chair, NARUC Committee on Water, 2014-present
     - Member, NARUC Sub-Committee on Nuclear Issues-Waste Disposal
     - Member, NARUC Task Force on Military Workforce
Member, Southeastern Association of Regulatory Utility Commissioners (SEARUC)
Education:
Presbyterian College, 1975, Bachelor of Science
          - Two year letter winner in basketball
University of Georgia, 1979, Master of Education
          - Graduate Assistant
Additional Education:
Graduate of the American Public Power Association, Washington Institute, 2006
SC Institute of Government for Municipal Elected Officials
Graduate of SC Economic Development School, 2006
          - Served as the opening speaker for SCEDS in 2007
          - Served as group facilitator for the next two years for SCEDS classes
National Regulatory Research Institute - Electricity Training - August 2013
55th Annual Regulatory Studies Program
Institute of Public Utilities - Michigan State University - August 2013
NARUC Utility Rate School - October 2013
NARUC Utility Rate School Faculty Member - October 2017 - Present
NARUC New Commissioner Training - February 2014
National Judicial College Training - December 2014
NARUC Grid School - March 2015
Elected & Utility Experience:
Mayor, City of Clinton, 2003 - 2013
Clinton City Council, 1993 - 2003
The City of Clinton runs its own electric utility, water utility and wastewater collection utility.  
   - SC Association of Municipal Power Systems (SCAMPS)
   - Clinton Economic Development Corporation
Piedmont Municipal Power Agency Board (PMPA), 2004 - 2013, (Chair 2010 - 2013)
PMPA is a ten city joint action agency providing electricity to the cities of Abbeville, Clinton, Easley, Gaffney, Greer, Laurens, Newberry, Rock Hill, Union and Westminster.  The PMPA board conducts business and sets rates for the agency.  As Chairman of the Agency, Randy also participated in presentations to Moody's, Fitch and Standard and Poor in New York to insure that our bonds were rated fairly.
American Public Power Association Policy Makers Council (APPA-PMC), 2006 - 2013
The APPA-PMC is a group of elected officials selected nationally to represent Public Power on energy issues with the White House and Congress.
National Chair, 2011 - 2012
Board of Directors, 2011 - 2012
Clinton Newberry Natural Gas Authority (CNNGA), Chairman, 2003 - 2013
CNNGA is a special purpose district formed by the Cities of Clinton and Newberry to provide natural gas for Newberry County and the lower half of Laurens County.
Municipal Association of South Carolina, President, 2012- 2013
The Municipal Association is the statewide organization that provides services to the municipalities of SC in the areas of training, finances, public policy, and advocacy.
Upstate SC Alliance, 2007 - 2013, Executive Committee of the Board, 2012 - 2013
The Upstate SC Alliance is a ten county marketing organization for economic development that is publicly and privately funded.  Randy served on the Board of Directors on the Strategic Planning task force.
Southern Municipal Conference, Board Member, 2012 - 2013
Organization of 13 southern states from Virginia to Texas.
Public Service Commission, Elected May 1, 2013
Professional Experience:
 Presbyterian College, Clinton, South Carolina, 1977 - 1989; 1992 - 2013
Executive Director, Alumni & Community Relations, 1998 - 2013
Director of Student Activities, 1992 - 1998
Director of Alumni Affairs, 1984 - 1989
Director of Student Activities, 1976 - 1984
Women's Basketball Coach, 1977 - 1984

Established and coached PC's first women's varsity basketball team
Other Experience:
Jacobs Press, Clinton, SC, 1990 - 1992
  Sales Representative
  - Sold high quality commercial printing in three states
Personal & Civic Service:
First Presbyterian Church, Clinton - Ordained Elder, Stewardship Chair, Choir, Past Deacon
Public Address Announcer for Presbyterian College Football for over 30 years
Palmetto Mastersingers, Columbia, SC 1990 - 2003, Board of Directors, 1994

Performances at the Koger Center, the White House, the National Cathedral, St. Peter's Basilica in Rome, St. Marc's in Venice, Austria and Hungary.

Laurens County Community Theatre, President, 1987 - 1988, Board of Directors,1985 - 2013
Dramatic Development Professional Theater Company
The Hospital Foundation of Self Memorial Hospital, Greenwood, S.C., Board of Visitors, 1989 - 1990
Piedmont Technical College, Board of Visitors, 2007 - 2009
Leadership Laurens County VI, 1988 - 1989
Clinton Rotary Club, President, 1987
Professional Associations & Activities:
S.C. Economic Development School and Leadership South Carolina, Speaker: 2008
American Public Power Association, 2004 - 2013
American Public Power Association Policy Maker's Council, 2005 - 2013
Council for the Advancement and Support of Education, 1984 - 1989, 1998 - 2013
CASE Faculty Star, CASE Summer Institute in Alumni Relations, 2003
CASE Summer Institute in Alumni Relations Faculty, 2004
CASE District III, CASE District IV, Presenter, Oklahoma City, O.K., 2006
Academic Impressions Presenter on International Web seminar, 2006
South Carolina Association of Alumni Directors, Executive Committee, 1998 - 2013
National Association of Campus Activities, published in two different publications