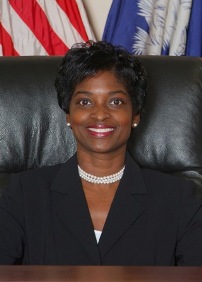 Charleston, S.C.
Sixth District: All of Bamberg, Clarendon, Florence, Marion and Williamsburg. Parts of Beaufort, Berkeley, Calhoun, Charleston, Colleton, Darlington, Dorchester, Lee, Orangeburg, Richland and Sumter.
Term: 1998-2009
Appointed to Federal Communications Commission August 2009.
Education:
South Carolina Executive Institute - 2000
University of South Carolina: B.S. Banking, Finance and Economics - 1984
W. J. Keenan High School - 1980
Professional Experience:
Public Service Commission Chair, July 2002 - June 2004
Elected to the Public Service Commission of South Carolina, July 1, 1998.
Publisher, general manager, newspaper editor of The Coastal Times in Charleston, SC. - 1984-1998
Professional organizations:
South Carolina Association of Black Journalists
Black Women Entrepreneurs - Past President
Charleston County Democratic Women - Past President
Utilities Market Access Partnership Board
The SC State Energy Advisory Council
Southeastern Association of Regulatory Utility Commissioners (SEARUC) - Past Chair
National Association of Regulatory Utility Commissioners (NARUC)
- Present Chair of NARUC's Washington Action Committee, Audit Committee member
Civic Involvement:
The Palmetto Project Board, secretary/treasurer
Trident Technical College Foundation
South Carolina Cancer Center Board
Columbia College Board of Visitors
The YWCA of Greater Charleston - Past Chair
Reid House of Christian Service
Edventure Children's Museum
Trident Urban League
Trident United Way
Life Member of the NAACP
The Links, Inc.
SC Advisory Council of the US Commission on Civil Rights
SC Education Oversight Committee's Common Ground School Improvement Committee
Awards & Honors:
2006 James C. Bonbright Honoree, (Southeastern Energy Conference, Terry School of Business, University of Georgia).
2007 Lincoln C. Jenkins Award for business and community contributions, Columbia (SC) Urban League.